GeoPlex™ 
Patent-pending GeoPlex™ climbing panels can be transformed into a wide range of climbers, towers, towers with nets, and post-and-deck attachments for PlayBooster® playgrounds for kids ages 5 to 12. These abstract, geometric designs come in many colors to create your favorite look – natural, contemporary, space-age, circus and much more!
For details, click here to view the GeoPlex™ Brochure.
Smart Play®
Colorful and compact playstructures loaded with imaginary play and learning activities tailored for growing minds and bodies.
When adults and children play together, language-rich interactions can support children's early brain and language development. Smart Play: Nook activities and messaging, developed with guidance from the National Head Start Association and Too Small to Fail, can prompt adult-child conversations and support whole-child learning across key developmental domains. They include literacy, math, science, nature, social-emotional development, nutrition and physical activity.
As young children grow, they become ready for Smart Play®: Loft 2-5. Handrails lead them up the steps and into a world of imaginary play, with a built-in find-it game, learning activities, lower level clubhouse and so much more. You'll find plenty of interactive elements to engage developing minds and bodies.
VersoSplash
The VersoSplash™ provides an unexpected splash. You think you know what's going to happen, then surprise! The bucket dumps in the opposite direction while the water spills forward. It's as fun to watch as it is to stand underneath.
For more great splash ideas, click here to view the full Aquatix catalog.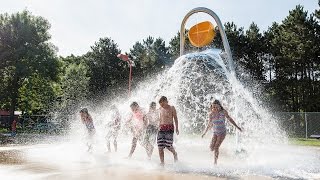 Poligon
It starts with an idea…
Poligon has been making shade structures since 1964. Their state-of-the-art engineering, drafting and manufacturing facility is organized for the sole purpose of designing and creating the industry's best structures. All Poligon structures are engineered to order, our sales, design and engineering teams will work with you to create the perfect solution for your project.
Need inspiration? Visit our Poligon Beauty Book!